Pastiche - premier, luxurious jewellery designed and owned in Australia. 
The word Pastiche is a work of visual art, literature, theatre, music, or architecture that imitates the style or character of the work of one or more other artists. Pastiche has always looked for inspiration for our jewellery, from nature to art we love 🖤
Our passion for stunning jewellery has led to the creation of premier, high-quality jewellery that is inspired by Australia's natural beauty.
You deserve to wear jewellery designs that celebrate your individuality. Crafted from the very best materials.
We believe that no outfit is complete until your jewellery is on!
All of our jewellery items are Australian-owned and Australian-designed. Our buying team operates around the world to meet high-end suppliers of quality sterling silver, stainless steel and stones. We're passionate about the environment and reducing overconsumption. That's why we guarantee premier quality jewellery that lasts.
Our Australian brand was born and bred in the Sydney Australia. Barbara Hastings founded our brand in 1987 at a small market stall, offering jewellery items for purchase. When Barbara retired, Northern Beaches couple Amy and Chris Bradley took over the brand. Things certainly started with a bang, as the couple welcomed their first daughter mere days after taking over Pastiche!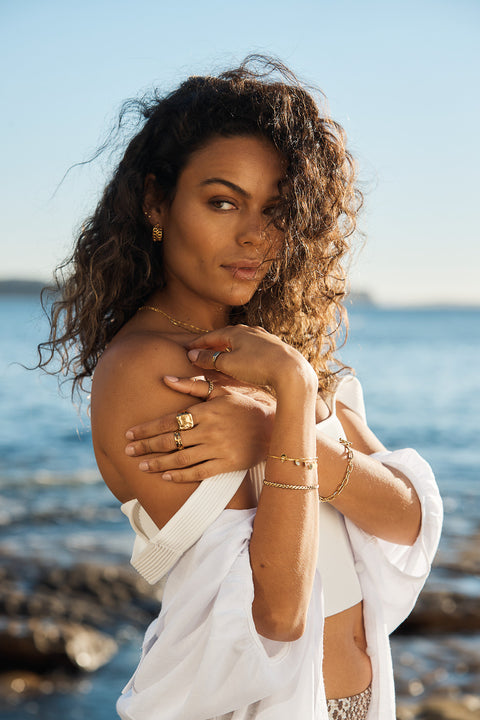 You deserve to wear unique, bespoke jewellery designs that celebrate your individuality
Our 35-year-old brand is family-owned and operated. We've been trusted by Australians for many years to provide jewellery pieces that embrace their inner creative flair.
We also are in the know on upcoming trends and are constantly following the evolution of fashion. This means we stock a range of exciting, trendy jewellery designs for you to experiment with. Our in-house design team love to create completely unique designs, from the initial sketch right through to the final piece that makes it into our warehouse.
Explore a diverse range of exceptionally crafted jewellery designs inspired by Australia for Australians today. Better yet, enjoy our Free and fast deleveries, all orders placed before 2pm will leave SAME DAY!